Typos and blitzing
July 22nd, 2011 - PoRtCuLLiS
I'm now the proud owner of a Key to Roch's Sanctuary after doing the quest, which was pretty similar to the Garden key quest preceding it. Now I can't fault the imagination that goes into the AO storylines etc, but wouldn't it be best to proofread these things before putting them live? I mean check this out: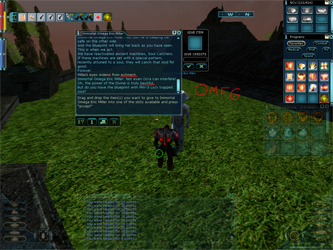 Call the spelling police, there's a maniac on the loose.
I made a cool 25M credits blitzing missions for a guy earlier. I could have gotten more but I'm not the best blitzer around and in the end I was dying too much. The mission layouts are never simple any more, and those cave ones are a complete mare.