Perks and Scheol
July 11th, 2011 - PoRtCuLLiS
Had a ridiculously long session of AO today, really into it at the mo. Early this afternoon I made 12M credits selling empty implants (some people have way too much money!). Things come and go quickly in this game though and I'd soon spent it again through the Global Market Search (GMS) system... 5M on Miy's Tank Body Armor (QL236) and the rest on soul fragments and mantis eggs. So I'm low on creds again, but I've got all the components to make 3x Virral Triumvirate Egg, which sell for zillions.
The stamina requirement on the body armor was a sticking point for a while. I logged onto my lowbie trader "Traids" and rolled two missions for Concrete Cushions. The first in Newland went smoothly. On the second mission I was gunned down by guards before even entering. Traids is an Omni character, and it turns out Old Athen is a Clan stronghold. Using a bit more stealth though I was able to get there on the second try. In hindsight I probably used bad slider settings on the mission terminal.
With the +16 stamina from these cushions I was still nowhere near the 650 needed. Passing through Jobe Platform I stumbled upon a vendor called "Full perk reset". At this point I realised there were alternative perk lines I could have used to benefit stamina (as well as strength). One reset and some buffs later, the armor was on. Not that you can see much of it through my red backpiece.
I'm on the verge of dinging to level 202, mostly due to the new 'daily missions' Funcom have brought in. This cool addition means you can gain shadow levels without having to go into the Shadowlands. The only down side to these is that they seem to repeat a lot. Today I was training Enigma Dogs for about the fourth or fifth time. Around the same area there was this big dinosaur type mob called Deinos the Cold Blooded. As is typical, I tried having a go at him. No dice. He was pretty low level but had a lot of HP, and a nano that seemed to nullify my MK shield. Luckily my teleportation perk was available and I zoned out before things turned ugly.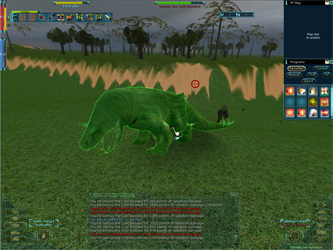 I was never a big fan of Shadowlands when it came out, I found it confusing and extremely awkward to navigate around the place. This time around though I'm getting a lot more joy out of it. Some of the areas are actually great to take in. Here's me in Lower Scheol: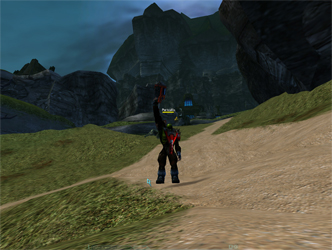 I was working on the quest for getting the key to Ocra Garden.