Halloween is here
October 27th, 2011 - PoRtCuLLiS
Halloween has rolled around once again on Rubi-Ka!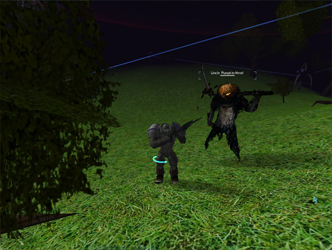 Out in the wild these Uncle Pumpkinheads are roaming around - they're bad tempered, but easy to dispose of. They drop all kinds of funny loots and costumes, including skulls & crossbones sprays, eyeball helmets, posters and Atrox Thong-Prevention Glasses (for shame). This is the freakshow I've made of myself today:
Sadly (luckily, for some) I was unable to get into the catgirl outfit.
A group of us from Torchwood also went to a special new instance called Hidden Enigma Grove. After a few waves of enemies though we were all dead. QL300 mobs hit hard.