Full Automatic Targeting
September 11th, 2011 - PoRtCuLLiS
I went on a Sector 35 raid with people on the iraid bot this evening. I'd built up around 140 iraid points by now and spent most of them on an Energy Redistribution Unit. This thing allowed me to change my Inferno Boots into a De'Valos Lava Protection Ring, meaning I can now wear proper boots while in Inferno, and hopefully die less easily.
Later on I tackled a quest from Corporal Ashley Winstead (Holes in the Wall). This involved quite tiring work, traveling around Rubi-ka killing multiple mobs. Luckily they were all grey and easy to snuff out at my level but it was still a trek. Here I am taking on Nanomutants in Avalon: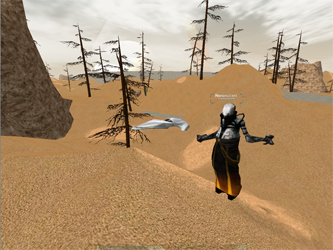 The end reward for the quest was some cash and a nano called Full Automatic Targeting, so it was kinda worth it. This nano replaces the old Automatic Targeting, but still stacks with Improved Automatic Targeting, confusingly.