Desert Rider loot
July 5th, 2011 - PoRtCuLLiS
As part of the 10 year anniversary there's a mob called the Desert Rider in Newland Desert with some special loot. I was lucky enough to be part of a raid and got my atrox sausagefingers on a Yalmaha Clio and a full set of Desert Nomad Armor (QL300), the requirements of which seem light years away from where I'm at right now.
So I right-clicked the new Yalmaha Clio and it vanished, to my horror it was nowhere to be seen in the Wear window. One petition later and I'm left feeling foolish. It turns out the Clio operates as a nano, instead of occupying a HUD slot.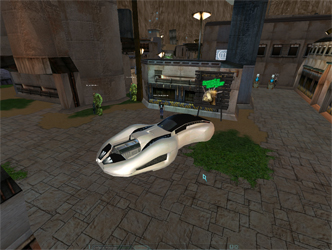 There I am, showing off in my new ride.
As an aside, the petition system is in dire need of an overhaul, these things take hours to get answered, which is fine, but you don't get any accurate indication of where you are in the queue or how long it will be.